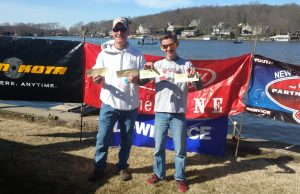 First a great big thanks to all who helped us out in this event, including Mike Keller – NJBF President; Dan Goykhman – NJBF Tournament Director; NJBF Member Mike Aspinwall, Sr.; NJBF Member Charlie Rothery; and all the other NJBF Members who helped out before and after the event (Frank Coyne; CJ Tuite; Donny Diggs and anyone else I missed). We would also like to give a special thanks to both T3 Baits and Keitech for their generous donations of baits that were given out to participants at the conclusion of the weigh in.
Most of all we would like to thank the 32 teams that showed up to participate in this event! While the day started cold it warmed up to be a beautiful spring day. As sometimes happens this time of year, the fish were finicky and tough to catch but as always, some teams found a way to make them bite. Congratulations to the winners Nick Runo and his 14-year old nephew Kevin Runo, who took the event with four hefty fish weighing 15.15 pounds, including the 5.19 pound lunker, caught by Kevin. That team won a whopping $1,778.62 for the win and an additional $232.50 for the lunker.
Second place went to the team of Dexter Marshall and Kevin Kelly with 13.84 pounds. That team managed the only five-fish limit of the event and received $1,086.94. Third place went to the team of Mike Rinaldi and Mike Kloss with four fish weighing 8.18 pounds worth $691.70. Last in the money was the fourth place team of Mike Maloney and CJ Tuite with two chunky fish weighing 7.17 pounds. That team received $395.26.  For full results, follow the link provided.
Pictures should be posted in the near future and the results and photos will also be posted on the Federation's Facebook site in the near future.