New Jersey's largest lake, Lake Hopatcong can be a challenging place to fish on a normal day.  But add high, off-colored water, and the "Atlantic Fleet" of pleasure crafts on the lake, and the 28 New Jersy Bass Federation anglers who fished the July 23 event, truly were tested.  And nearly all responded as the fields in both the Boater and Co-Angler Division were bunched up creating an exciting finish to the NJBF's 2023 point tournament season.
The Boater Division winner of the event was Brian Wittig of the Essex County Bassmasters.  Wittig caught enough bigger than average sized fish to post a 12.20 pound five-fish limit, enough to hold off the second and third place finishers.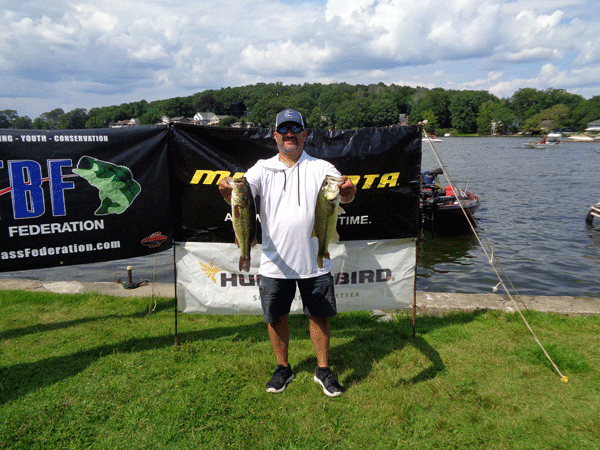 Second in the Boater Division by .03 of an ounce was Craig Townsend, whose 11.64 pound limit also cemented his finish as the Boater Angler of the Year.
Just behind in third place was Wally Peer, whose five best fish weighed 11.61 pounds.
The Boater Division lunker, a 4.79 pound largemouth was caught by Bob Stock.
In the Co-Angler Division one angler dominated.  That angler, Mike Wotanowski of the Warren County Bassmasters posted a stellar 9.74 pound three-fish limit, enough to win by nearly three ful pounds.  Anchoring his weight was the 3.75 pound Co-Angler Division lunker.
Second place went to the venerable Frank McMahon, who, despite injuring his back early in the morning, managed three chucky fish weighing 6.84 pounds, just enough to hold off Mike Lee who had 6.43 pounds.  Regardless, Lee's finish clinched his status as Co-Angler of the Year.