The second New Jersey Bass Federation event of the 2020 season was held on a beautiful summer day on August 9, 2020, at New Jersey's largest lake, Lake Hopatcong. While the weather was spectacular, the 40 participating anglers had to deal with the unbelievable summer boat traffic on the lake, which can make it appear ocean-like. This challenge did not detract at all from the quality of the fishing as most anglers brought fish to the scales and the event, in both the Boater and Co-Angler Divsions, was closely contested.
Boater Division
The margin of victory in the Boater Division was a scant 1/2 -pound. The winner of the Boater Division was well-known Hopatcong "stick" Mike Rinaldi.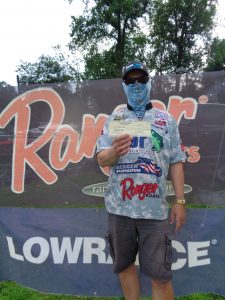 Rinaldi posted a very solid five-fish limit weighing 13.90 pounds. Rinaldo also won the Ranger Cup prize based on this finish as the highest finishing Ranger Cup eligible angler.
Finishing a close second was Al Hudson who also busted the 13 pound mark, with a five-fish limit totaling 13.39 pounds. Hudson was followed by Mike McMahon who finished in third place with 11.20 pounds.
The Boater lunker was a 5.14 pound beast weighed in by NJBF President Mike Keller.
Co-Angler Division
The new 2020 co-angler rule change to a 3 fish limit produced an incredibly close Co-Angler Division finish, as the top 14 anglers were only separated by 3.00 pounds, and the top three finishers were within 0.81 pounds of one another. Winning the event with 5.71 pounds was Scott Cocioppo, anchored by the Division's largest fish, a 3.28 pound largemouth.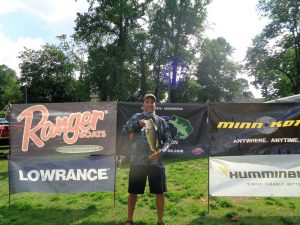 Second place went to maybe the hottest bass angler in the State. Mike Wotanowski of the Warren County Bassmasters followed up his victory in the season's first event with a second place finish in this event. In doing so, he weighed in a three-fish limit of 5.48 pounds. Third place went to NJBF veteran Frank McMahon (father of Mike) with 4.90 pounds.
Attached are the overall results for the event and some photos.
Thanks to all who participated!