The first NJBF point event of the season was a two-day event held on June 4 and 5 at Candlewood Lake in Connecticut. Those who know the lake find it to be among the best fisheries in the northeast and a location where you can catch good numbers and above-average weight largemouth and smallmouth, often in the same spot. While the lake was a bit stingier than it could have been, the event was a great success and the weights and numbers were excellent.
In the Boater Division, the winner was Manny Cruz. Cruz led wire to wire and his two day total of 34.43 pounds was enough to take the top prize by over 1.50 pounds. Second place in the Boater Division went to Mike Czaplinski who made a hard charge on Day 2 and finished just short with 32.91 pounds. Rounding out the top three boaters was John McAloney with 31.70 pounds. The Day 1 boater lunker went to Cody Barry with a 5.78 pound largemouth and the Day 2 boater lunker went to Peter Warner with a 6.14 pound brute of a largemouth.
In the Co-Angler Division, where there is a 3-fish limit, the weights were truly impressive. Winning that Division with a weight of 21.74 pounds was Casey Noble. Close behind in second place was Joe Casale with 20.47 pounds. Third place went to Joe Venuto who posted a weight of 19.68 pounds. The Day 1 co-angler lunker went to Joe Casale with a 5.47 pound largemouth. The Day 2 co-angler lunker was a 4.50 pound largemouth caught by Joe Venuto.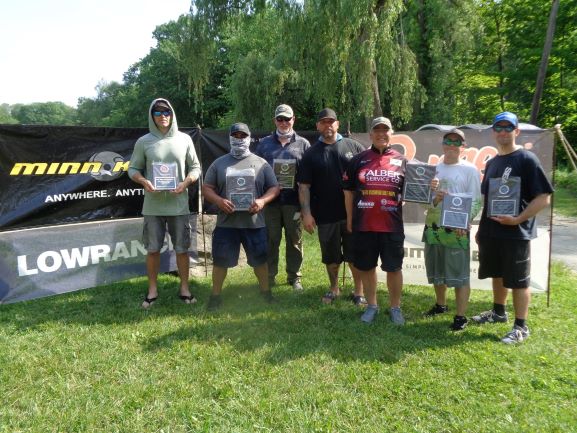 The overall standings are posted on the results page and some photos are below.
Thanks to all the anglers who helped us out in the mornings and at the weigh ins.
See you at the next event, the June 27 tournament of the Northern Chesapeake Bay.